American Artist (1856-1915)
Photo of John White Alexander about 1882 or 1883
Born October 7, 1856 at Allegheny PA
Died May 31, 1915 at New York, NY
Age at Death – 58 Years Old
Nationality – American
Art Style and Medium – American Portrait, Illustrator, figure, and decorative painter/illustrator
Time Period of Influence – 1880-1915
Photo Credit – John White Alexander about 1882 or 1883. Napoleon Sarony. John White Alexander papers, 1775-1968. Archives of American Art, Smithsonian Institution.
Biography – John White Alexander was born in Allegheny Pennsylvania (Pittsburgh area). He was orphaned in infancy and raised by his grandparents. As a young boy he started working in Pittsburgh as a telegraph boy. While working at the Pacific and Atlantic Telegraph Co. One of his employers recognized his drawing talent and encouraged him to develop it. Also, at this time Colonel Edward J. Allen became an early supporter and Alexander painted several members of his family.
At the age of 18 John moved to New York City and worked at Harper's Weekly, where he did illustrations and political cartoons. Two years later he enrolled at the Royal Academy in Munich. His training there influenced his working style and from 1879 to 1881 he traveled and studied with painter Frank Duveneck in Italy.
In 1881 he returned to New York City and was highly successful painting portraits. Also, from 1881 to 1889, John was an instructor of drawing at Princeton University.
Alexander traveled to many countries including North Africa and England. In 1890 he moved to Paris for a time and was a part of the Art Noveau trend but had other influences on his painting styles. While in Paris, John was elected in France to the "Société Nationale des Beaux Arts."
While in Paris, John White Alexander painted the painting "Repose", which is pictured above. This is an oil on Canvas Painting done in 1895. Representing the contemporary Art Nouveau tastes for sensual images and accentuating facial expressions and supple curves, this is said to be a portrayal of Loie Fuller, the American dancer that performed at the Folies Bergère in Paris.
During his lifetime John painted many famous people including, Walt Whitman, Oliver Wendall Holmes, and others.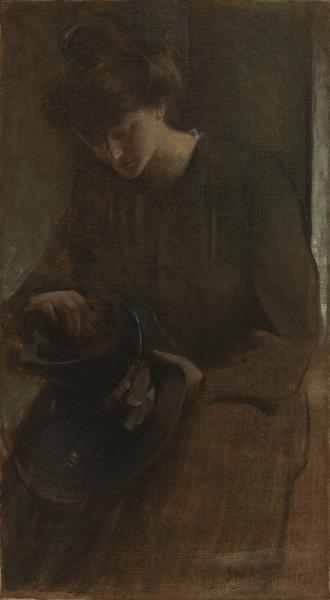 In 1895 he was commissioned to paint a mural for the Library of Congress in Washington D.C., and, in 1905 a mural at the Carnegie Institute.
John White Alexander was married to Elizabeth Alexander Alexander, whom he was introduced to because they had the same last name. They had one son, James Waddell Alexander II.
On May 31, 1915, John Alexander White died in New York City at the age of fifty-eight.
Honors and Accolades
bestowed on John White Alexander included:
Lippincott Prize – Pennsylvania Academy of the Fine Arts in 1899
Legion of Honor in 1901
Membership in the National Academy of Design in 1902 (President 1909-1915)
Membership in the American Academy of Arts and Letters
President of the National Society of Mural Painters. (1914-1915)
Gold Medal – Paris Exposition in 1900
Gold Medal – World's Fair – St. Louis in 1904
Medal of the First Class – Carnegie Institute International Exhibition in 1911
Access to Works
John Alexander White has paintings in museums in many places in the United States and Europe. Some of those include:
Metropolitan Museum of Art – New York City.
Brooklyn Art Museum – Brooklyn NY
Los Angeles County Museum of Art –
Museum of Fine Arts – Boston MA
Smithsonian American Art Museum – Washington D.C.
Butler Institute –
Library of Congress – Washington D.C.
Murals – Entrance Hall to the Art Museum of the Carnegie Institute – Pittsburgh PA